---

---
FONDO ENTRY FORM | FONDO BIKE REG | CUE SHEET | MAP & COURSE PROFILE
---
---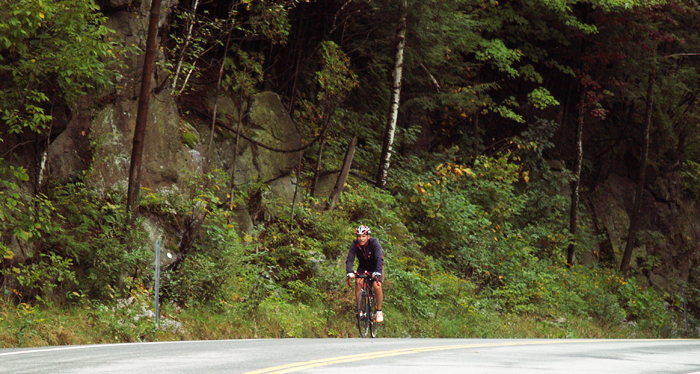 ADK 540 winner Ray Greenlaw taking the climb out of Keene Valley on his first lap.
---
TOUGH RACE!
The 2013 edition of the ADIRONDACK 540 proved to be one of the toughest.
Despite temperatures in the 90s just two days prior to the start of the 15th running of the race, the mercury barely broke 60 all weekend. And when the cool temperatures were combined with a steady wind and the rugged terrain, only two riders were able to push through to the finish.
They were Ray Greenlaw of Hope, RI, and David George of Fredericksburg, VA. Ray avenged his DNF from last year and David maintained his perfect record, while finishing for the 7th time.
The Silver Sojourn 272 saw both entrants finish, with John Jenkins of Absecon, NJ, finishing in an impressive 19H:34M, and 62 year old Peter Phillips of Wynnewood, PA, finishing in 33H:12M, after taking the night off, between laps.
John Nobile of Guilford, CT, set his sites on the one lap race, a year after setting the overall RECORD, and won in a very impressive 07H:15M, which set an age group RECORD.
See below for the complete results and CLICK HERE for information about next year's race.