Adirondack Ultra Cycling is a private organization that was founded by ultracyclist John Ceceri in 2007. Our goal is to challenge riders and promote ultra cycling and RANDONNEURING in the Adirondack and Saratoga regions of upstate New York.
If you have any questions about Adirondack Ultra Cycling, feel free to contact us. Enjoy, and we look forward to seeing you on the road.
---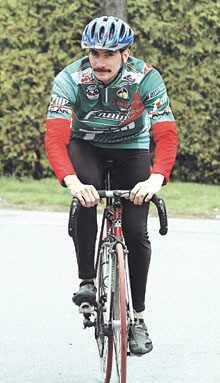 Mr. Ceceri brings 30 years of experience as an ultracyclist to all of the events that we produce. Since 1982, he has personally completed many centuries, double centuries, brevets, 24 hour races and other long distance rides, including the very first John Marino Open, held in Hemet, CA in 1983. He has organized rides and races almost since the day he started riding seriously, and enjoys sharing his knowledge with others.
He has also been very active with several cycling clubs as a ride leader and club officer, including the Mohawk Hudson Cycling Club, the New York Cycle Club, American Youth Hostels, the Five Borough Bicycle Club, BIKE NY, International Randonneurs and RUSA.
Also included on his cycling resume is a five-year stint as a bike shop owner and many years as a professional mechanic.
Adirondack Ultra Cycling is mainly a volunteer driven organization and chief among our volunteers is Kathy Ceceri, wife of John. Kathy is a veteran crew member of many rides and races and is also a cyclist in her own right, having ridden numerous centuries and completing a 1500 mile self-supported tour of the Pacific Coast.
Kathy is the director of CRAFTS FOR LEARNING, the author of several activity books for kids and adults, and teaches summer programs at libraries, museums, schools and maker spaces throughout the northeast.