---
OCTOBER 26, 2019 | 6:00 PM | 104/65/49 MILES | 3,236'/1,883'/1,539' | SCHUYLERVILLE, NY | $30
100 MILE CUE SHEET | METRIC CUE SHEET | 50 MILE CUE SHEET
ENTRY FORM | BIKE REG | UNOFFICIAL THEME SONG

---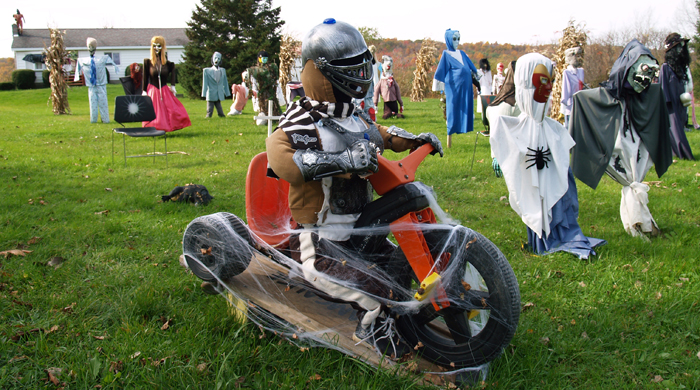 ---
Thank you for your interest in the Haunted Hundred Overnight Century. This ride is part of the Adirondack Ultra Challenge and will be ridden entirely at night!
Are you an experienced night rider? Are you a day tripper that wants to go all night? Either way, this scary ride is for you!
It's a great opportunity to join other night owls on an all night, fun, friendly ride. The route will be a rolling loop through Saratoga, Warren and Washington Counties and will take us to frightening places like Bloody Pond, and Prospect Hill Cemetery, and past haunted houses, burial grounds, cemeteries, murder sites, battlefields and war monuments. And since it's close to Halloween, you never know what you might see!
Lights and reflective gear will be mandatory, and please make sure you have enough battery power to get you through the entire night (expect 8-10 hours of riding time). We require at least one headlight attached to your bike, two taillights (one steady, one flashing, of which at least one has to be attached to your bike), reflective ankle bands and a reflective vest or reflective sash. To view our complete rider checklist, which includes our minimum lighting requirements, click here.
We'll also have a selection of lights, batteries, tires, tubes and other merchandise, including Haunted Hundred t-shirts, for sale at the start, in case anyone needs anything. In addition, we've made a few items available that you may order with your online registration.
---
*** IF YOU RIDE IN A COSTUME, WE WILL WAIVE THE ENTRY FEE! ***
(Sorry, but your favorite rider's team kit does not count as a costume)
---
This ride will be unsupported on the road, but we'll have food at the start and finish, and gels, drinks and bars to take with us.
We'll start promptly at 6 PM from the newly opened ADIRONDACK ULTRA CYCLING BIKE SHOP, located at: 160 Broad Street, SCHUYLERVILLE, NY. We do not have a parking lot, but there is plenty of street parking in front of the store and on the side streets. Please do not park in another business' lot or block a driveway, otherwise your vehicle may be towed. Also be courteous when arriving and departing, given the timing of this event.
Same day registration will be available beginning one hour before the start, and we're pleased to announce that we now accept credit cards for on-site registration and purchases.
This ride will be held rain or shine and entry fees are non refundable and non transferable.
To download an entry form, CLICK HERE.
To register online, CLICK HERE.
To download the 100 mile cue sheet, CLICK HERE.
To download the metric cue sheet, CLICK HERE.
To download the 50 mile cue sheet, CLICK HERE.
To view the unofficial theme song for the Haunted Hundred, CLICK HERE!
For more information, or if you have any questions, feel free to contact us.
HAUNTED HUNDRED OVERNIGHT CENTURY
MACABRE METRIC OVERNIGHT METRIC CENTURY
FRIGHTENING FIFTY OVERNIGHT HALF CENTURY