---
---
For more options
visit our SIGN UP page
---
---
---
The 2010 edition of the Adirondack 540 was quite the race. A spirited field started off strongly, but the cold and foggy night took its toll on riders. As soon as the sun set, the already cool temperatures dropped another 10° almost immediately, and the fog kept riders as wet as if it had actually rained.
Early leader Alberto Blanco was one of the first casualties, when he withdrew about midnight. He was soon joined by the entire Silver Sojourn field, and other 540 entrants Mark Scott, Richard Sykes, Ed Dodd and James Young.
Most of the riders that pressed on had to re-evaluate their objectives, and some just went into survival mode. However, those that were still riding on the second night, were rewarded with about as nice a night as we've seen in the race.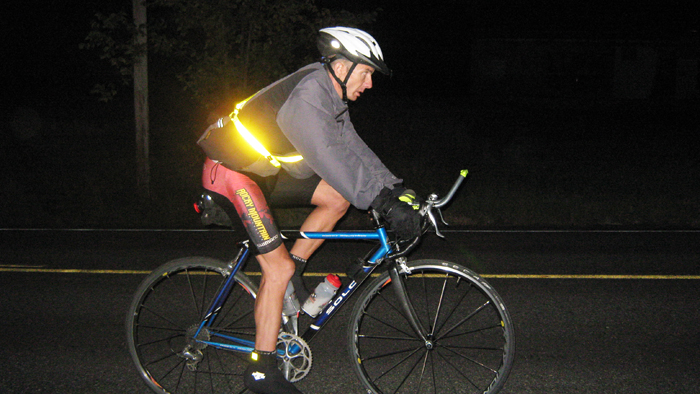 Bob Olden on his way to winning the ADIRONDACK 540.
1.
Bob
Olden
42
Chestertown
NY
38H:17M
First Local Rider to Win ADK 540!
2.
Geoff
Brunner
42
Allentown
PA
42H:45M
Best Crew!
3.
Stephen
Bugbee
56
Pittsfield
MA
48H:04M
Second ADK 540 Finish!
—
Alberto
Blanco
29
San Mateo
CA
DNF
—
Ed
Dodd
64
Collingswood
NJ
DNF
—
James
Young
45
Toronto
ON
DNF
—
Richard
Sykes
56
Arlington
TN
DNF
—
Mark
Scott
47
Dunrobin
ON
DNF
—
Moshe
Silverstein
40
Maplewood
NJ
DNS
1.
Caroline
van den Bulk
43
Huntsville
ON
44H:50M
New Course RECORD!
2.
Cassie
Schumacher
38
Akron
OH
47H:55M
Also Broke Women's Record!
3.
Jessica
Eckhardt
28
Cambridge
MA
50H:58M
Second ADK 540 Finish!
1.
Gears, Years & Beers
David George
Barth Pitchford
Bill Pitchford

51
51
48

Fredericksburg
Fairfax
Fairfax

VA
VA
VA
32H:55M
New Course RECORD!
This was David's fourth ADK 540 Finish!
—
Louis
Fusco
55
Ridge
NY
DNF
—
Douglas
Hoffman
46
Woodstock
NY
DNF
—
James
Melville
59
Stuyvesant
NY
DNF
—
Kate Marshall
Victor Urvantsev
48
31
White Plains
White Plains
NY
NY
DNF

Saratoga 12H Record Holder!

1.
Tom
Ambros
49
Schenectady
NY
07H:50M
Local Winner!
2.
Chris
Greig
24
Mississauga
ON
08H:00M
3.
Pat
Mc Falls
51
Pennellville
NY
08H:40M
4.
Lloyd
Barry
41
Vanier
ON
09H:52M
Thrid Bronze Blast Finish!
5.
Dick
Murphy
52
Glens Falls
NY
10H:03M
Fifth Bronze Blast Finish!
6.
Carl
Petersen
32
Arlington
VA
10H:08M
7.
Roger
Byrom
52
Stockton
NJ
13H:41M
Former ADK 540 Executive Director!
—
Glenn
Shesney
47
Warminster
PA
DNF
1.
Barbara
Kingsborough
59
Mount Kisco
NY
09H:14M

Set

Second Course Record!
---
ADIRONDACK ULTRA CYCLING GENERAL INFORMATION
REGISTRATION GUIDELINES:

• ALL RIDERS MUST PRE-REGISTER VIA BIKEREG.
The deadline to register will be approximately 48 hours before the start of the event, unless otherwise stated. Same day and on-site registration is not available.

• SAME DAY REGISTRATION IS NOT AVAILABLE & PARTICIPATION IS LIMITED.
Our events will each have a field limit and once that limit is reached, no further entries will be accepted. Please refer to each event's ride info summary or visit BIKEREG for exact details.

• ALL EVENTS ARE HELD RAIN OR SHINE AND ENTRY
FEES ARE NON REFUNDABLE AND NON TRANSFERABLE.
If there is a chance of snow, ice or other dangerous conditions on our winter rides, they will be rescheduled or canceled. If that occurs and a rider can not make the new date, they will be given credit toward another ride.

• MOTORIZED BICYCLES OF ANY KIND, INCLUDING, BUT NOT LIMITED TO E-BIKES
AND PEDAL ASSIST BICYCLES, AND PETS ARE PROHIBITED FROM OUR EVENTS.
Riders arriving with a motorized bicycle or pet will not be permitted to participate in our events, will be asked to leave immediately, and no refund or credit will be issued.
The SHOP will be open before and after our events, in case anyone needs anything or forgot something, and if you would like us to service your bike for any of our events, CONTACT US to set up an appointment. We can usually accommodate riders on short notice, but a week's time frame is best.
Rider's times are recorded "door to door," with all rest breaks, rest stops, mechanical stops, delays, etc., included in your official finish time. The official event clock begins at the advertised start time, whether or not you are actually riding, and all finishing times are recorded when you check in with the official time keeper. If a rider dawdles at their car or changes or packs up before checking in, their time will reflect that, just as if you took a break in the middle of the ride.
ALL BICYCLES USED IN OUR EVENTS MUST BE POWERED SOLELY BY HUMAN FORCE.
Motorized bicycles of any kind, including, but not limited to: e-bikes and pedal assist bicycles, are prohibited from our events. Riders arriving with a motorized bicycle will not be permitted to participate in the event, regardless of whether the motor is on or off or will/will not be used, and no refund will be issued.
PETS ARE NOT ALLOWED AT ANY OF OUR EVENTS.
This includes those brought by riders, crews, friends, family, etc., regardless of whether they are leashed, carried in a bag or kennel, or kept in a car. Anyone arriving with a pet will be asked to leave and the associated rider may be disqualified, given a time penalty, and/or not permitted to participate in the event and no refund will be issued. Service animals as defined by Titles II and III of the ADA will be permitted in areas of our events where the general public is allowed. All service animals must comply with ADA requirements for handler's responsibilities and please be prepared to show your certification documentation. Please note that emotional support animals, comfort animals, therapy animals, etc., are not considered service animals under Titles II and III of the ADA and are not permitted at our events.
Helmets must be worn at all times while cycling.
All traffic laws, signals, signs, devices, etc., must be obeyed at all times.
All turns, stops, slow downs, etc., must be signaled and/or called out to other riders and other traffic.
Always ride with traffic, ride defensively, be aware of your surroundings, watch out for other traffic and never assume another vehicle will stop or yield.
Riders must get completely off the road when stopped.
Ride no more then 2 abreast and only when traffic permits. Single up when traffic approaches from the rear.
Keep as far to the right as safety permits and if there is a rideable shoulder you must use it.
Most of our routes are unmarked. Be prepared to navigate on your own and follow a cue sheet and/or GPS device. If relying on an electronic device for navigation, please make sure you have enough battery power for the entire ride, and be aware that in cold conditions and areas where there is low reception, batteries may drain at a much faster rate.
Most of our events are unsupported on the road, but we'll have pocket food at the start, as well as emergency sag, if necessary. on the road, but snacks and pocket food will be provided at the start and emergency sag, if necessary. To help you prepare, we've created a rider checklist. To view it, CLICK HERE. Be prepared to be self sufficient on the road, and/or use convenience stores to resupply.
Sanctioned events will have other rules and regulations specific to their governing organization. Please refer to each event's page for exact details.
Drug testing using WADA guidelines may be performed on any entrant up to 30 days before or after an event. In addition, any rider under suspension by any sports governing body is prohibited from entering our events.
PRIVACY STATEMENT: We do not share your personal information with any other person, club, event, business, organization, etc., without your consent, except as required to submit official results to sanctioning organizations.
If you have any questions, feel free to CONTACT US.