---
---
For more options
visit our SIGN UP page.
To see our past updates,
CLICK HERE.
---
---
---
WE HAVE A NEW RECORD!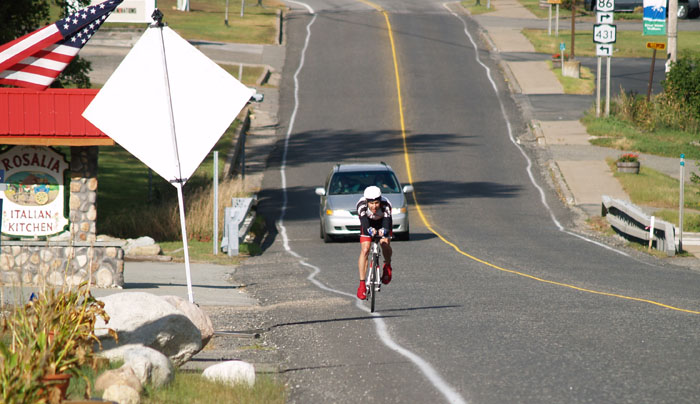 John Nobile approaching the finish line in record time.
John Nobile of Guilford CT, turned in a very impressive performance and broke the course record by 16 minutes, with a time of 32H:00M. This comes on the heals of another impressive performance in July at the Hudson River Ramble 12. He broke the record there as well, but so did two others and he finished third.
But on this weekend, no one finished ahead of him.
Each of his four laps on the 136 mile loop, were fairly consistent, and he spent very little time off the bike. He rode very efficiently and even installed a chin rest on his stem that allowed him to rest his head while descending.
Overall, the race was a typical 540. The weather was a bit tricky at times, with tough headwinds, heavy showers and cold nighttime temperatures, but not too bad for the most part.
Friday was a little on the warm side, with highs in the low 80s, and a few riders felt the heat, as we had a handful of withdrawals overnight. Things cooled down Friday night and into Saturday, with lows in the low 40s on most of the loop, but dropping about 10° in the higher elevations. Hurricane Mountain was once again a brute of a climb, and riders could feel the air getting colder the higher they rose.
Saturday was a little more challenging as far as the weather was concerned, as it only got up into the low 60s on most of the course, but stayed in the mid 50s in some areas.
All in all, it was another outstanding race. We had a good field for the 540, including David George, who finished for the sixth time, Jim Dannis who finished for the second year in a row, knocking off over 5½ hours on his time, and Jeff Bonk, who avenged a DNF from last year, when he was forced to drop out after a crash. There were a few disappointments too, as half the field didn't finish, including a couple of race veterans.
See below for the complete results.
1.
John
Nobile
49
Guilford
CT
32H:00M
Set new Record! Avenged 2009 DNF!
2.
Jeffrey
Bonk
34
Sioux Falls
SD
39H:19M
Avenged 2011 DNF!
3.
David
George
53
Fredericksburg
VA
39H:24M
Also finished in 2003, 2004, 2007, 2010 & 2011!
4.
Jim
Dannis
55
Dalton
NH
39H:41M
Beat 2011 time by 5H:38M!
5.
Jesse
Stauffer
24
Selinsgrove
PA
49H:13M
Youngest finisher!
6.
Richard
Crandell
35
Peoria
IL
49H:23M
—
Geoff
Brunner
44
Allentown
PA
DNF
Finished in 2010!
—
Raymond
Greenlaw
51
Annapolis
MD
DNF
—
Ernest
Landry
59
Leominster
MA
DNF
—
Henrik
Olsen
47
Walkersville
MD
DNF
—
Kale
Poland
30
Laconia
NH
DNF
—
Horner
Williams
47
Red Bank
NJ
DNF
—
Marc
Landry
57
Philadelphia
PA
DNS
—
Jessica
Eckhardt
30
Cambridge
MA
DNF
Finished in 2008, 2010 & 2011!
1.
Meurig James
Krstie Nichols James
35
33
Philadelphia
Philadelphia
PA
PA
48H:15M
Set new Record!
—
Brian
Uline
46
Sloatsburg
NY
DNF
Also raced in 2002 & 2003!
1.
Chris
Pedicone
42
Basking Ridge
NJ
34H:34M
—
Graham
Hallward
56
Toronto
ON
DNF
—
David
Power
41
Wilmington
DE
DNF
—
Spencer
Williams
21
Temple
NH
DNS
—
Suzanne
Burke
59
Leominster
MA
DNF
—
Heather
Rizzi
33
Schenectady
NY
DNS
1.
Tom
Ambros
51
Schenectady
NY
08H:10M
Local Rider! Also won in 2010!
2.
Francois
Proulx
37
Mascouche
QC
10H:26M
3.
Kurt
Higgins
43
Ballston Spa
NY
11H:09M
Also worked as Race Official!
4.
Jean
Mondesir
46
Red Bank
NJ
12H:34M
5.
Chris
Grant
53
Lake Placid
NY
12H:45M
Also worked as Race Official!
—
Glenn
Shesney
49
Warminster
PA
DNF
1.
Krista
Schepanovsky
44
Harvard
MA
09H:34M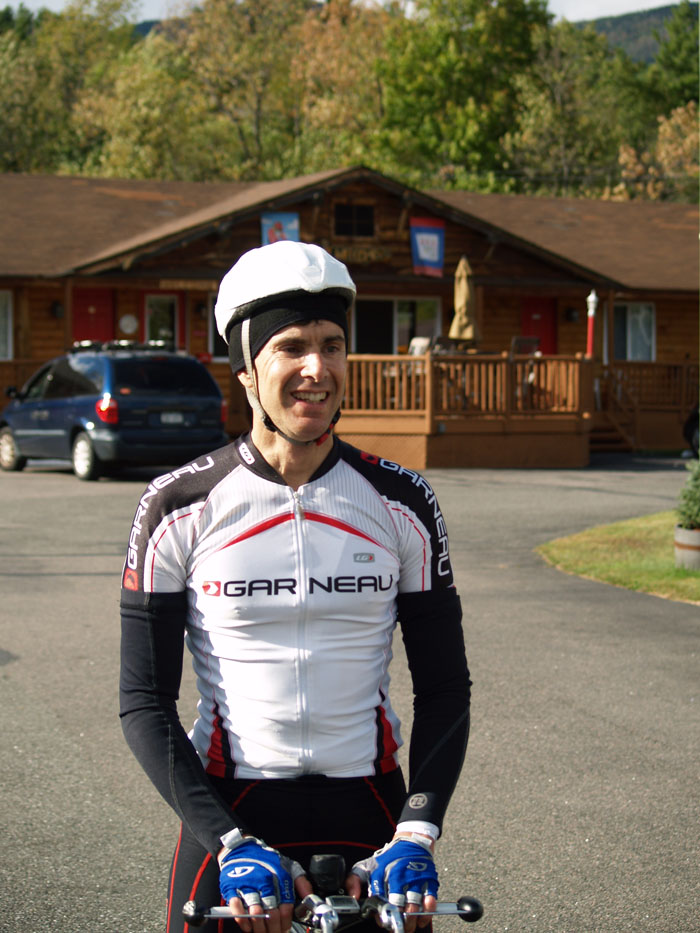 John Nobile looks like he's ready to do it again, shortly after he finished.
---
ADIRONDACK ULTRA CYCLING GENERAL INFORMATION FOR RIDES
• GENERAL RIDE GUIDELINES

Due to insurance requirements, motorized bicycles are not permitted on our rides. This includes all types of e-bikes and pedal assist bikes. Riders that arrive with a motorized bicycle will not be permitted to participate in our events and will be asked to leave immediately and no refund or credit will be issued.

Due to insurance requirements, pets are not permitted on our rides or on our ride premises by any associated person attending our events. This includes riders, volunteers, friends, family, spectators, etc. Anyone arriving with a pet and/or their associated rider will not be permitted to participate in our events and will be asked to leave immediately and no refund or credit will be issued. ADA certified service animals will be permitted in areas the general public is permitted, according to ADA regulations. If arriving with an ADA certified service animal, please have its ADA identification vest on at all times and its certification papers ready for inspection.

All of our events start promptly and most leave from the ADIRONDACK ULTRA CYCLING BIKE SHOP. Refer to each event for its exact starting location and time. Please arrive at least a half hour before the start time to check in, get ready, receive last minute instructions and have your bike inspected. When arriving and departing, please be courteous, especially if it is early in the morning or late at night, as our starting locations are typically in mixed residential/business neighborhoods. Please do not park in another business' lot or block a driveway or the street itself, otherwise your vehicle may be towed. The shop does not have a parking lot, but there is ample street parking in front of the shop and on adjacent streets. For travel directions and parking instructions to the shop, CLICK HERE.

Ride times are recorded "door to door," with all rest stops, mechanical stops, delays, etc., included in your official finish time. The official event clock begins at the advertised start time, whether or not you are actually riding, and all finishing times are recorded when a rider checks in with the official time keeper. If a rider dawdles at their car or changes or packs up before checking in, their time will reflect that, just as if you took a break in the middle of the ride.

Unless otherwise stated, our rides do not have an "official" time limit, but dusk is our "soft" time limit for rides that do not involve night riding. Most riders should finish well before the sun sets, but if anyone is still riding after dark and they are coherent, riding in a safe manner, properly prepared and meet our lighting requirements, they will be allowed to continue. However, if they are not coherent and/or not riding in a safe manner and/or not properly prepared and/or do not meet our lighting requirements, they will immediately be pulled from the course.

Drafting is allowed in all of our events and group riding is encouraged.

Helmets must be worn at all times while cycling.

All traffic laws, signals, signs, devices, etc., must be obeyed at all times.

All turns, stops, slow downs, etc., must be signaled and/or called out to other riders and other traffic.

Always ride with traffic, ride defensively and be aware of your surroundings. Watch out for other traffic and never assume another vehicle will stop or yield, even if you have the right of way.

Riders must get completely off the road when stopped.

Ride no more then 2 abreast and only when traffic permits, and you must single up when traffic approaches from the rear.

Keep as far to the right as safety permits and if there is a rideable shoulder or bike lane you must use it.

Most of our routes are unmarked. Be prepared to navigate on your own and follow a cue sheet and/or GPS device. If relying on an electronic device for navigation, please make sure you have enough battery power for the entire ride, and be aware that in cold conditions and areas where there is low reception, batteries may drain at a faster then normal rate.

Most of our events are unsupported on the road but snacks, pocket food and drinks will be provided at the start, middle (if returning to the shop) and finish. Riders should expect to be self-sufficient and have the ability to follow GPS directions and/or a cue sheet and use convenience stores to resupply along the route. Emergency SAG will be available in extreme situations, but please note we do not consider a flat tire an extreme situation. If you are not sure what to bring or how to carry it on your bike, feel free to CONTACT US and/or view our RIDER CHECKLIST.

Sanctioned events will have other rules and regulations specific to their governing organization. Please refer to each event's page for exact details.

Drug testing using WADA guidelines may be performed on any entrant up to 30 days before or after the event they have registered for. In addition, any rider under suspension by any sports governing body is prohibited from entering our events.

PRIVACY STATEMENT: We do not share your personal information with any other person, club, event, business, organization, etc., without your consent, except as required to submit official results to sanctioning organizations.
If you have any questions about our guidelines, feel free to CONTACT US.