---

---
FONDO ENTRY FORM | FONDO BIKE REG | CUE SHEET | MAP & COURSE PROFILE
---
---
WE HAVE A NEW RECORD!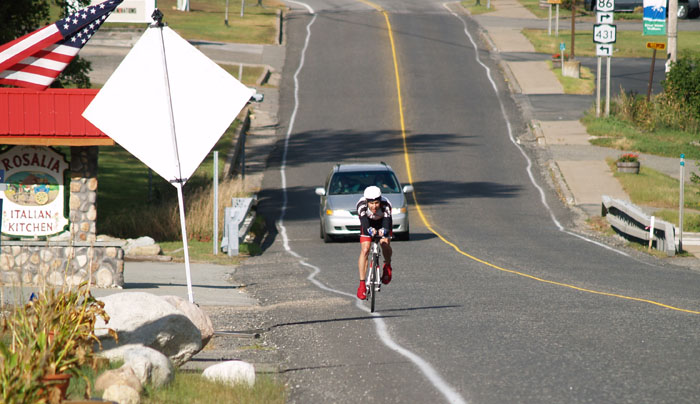 John Nobile approaching the finish line in record time.
John Nobile of Guilford CT, turned in a very impressive performance and broke the course record by 16 minutes, with a time of 32H:00M. This comes on the heals of another impressive performance in July at the Hudson River Ramble 12. He broke the record there as well, but so did two others and he finished third.
But on this weekend, no one finished ahead of him.
Each of his four laps on the 136 mile loop, were fairly consistent, and he spent very little time off the bike. He rode very efficiently and even installed a chin rest on his stem that allowed him to rest his head while descending.
Overall, the race was a typical 540. The weather was a bit tricky at times, with tough headwinds, heavy showers and cold nighttime temperatures, but not too bad for the most part.
Friday was a little on the warm side, with highs in the low 80s, and a few riders felt the heat, as we had a handful of withdrawals overnight. Things cooled down Friday night and into Saturday, with lows in the low 40s on most of the loop, but dropping about 10° in the higher elevations. Hurricane Mountain was once again a brute of a climb, and riders could feel the air getting colder the higher they rose.
Saturday was a little more challenging as far as the weather was concerned, as it only got up into the low 60s on most of the course, but stayed in the mid 50s in some areas.
All in all, it was another outstanding race. We had a good field for the 540, including David George, who finished for the sixth time, Jim Dannis who finished for the second year in a row, knocking off over 5½ hours on his time, and Jeff Bonk, who avenged a DNF from last year, when he was forced to drop out after a crash. There were a few disappointments too, as half the field didn't finish, including a couple of race veterans.
See below for the complete results.