---
---
For more options
visit our SIGN UP page
---
---
Results for the Adirondack Ultra Challenge:
If you have any questions, feel free to contact us.
---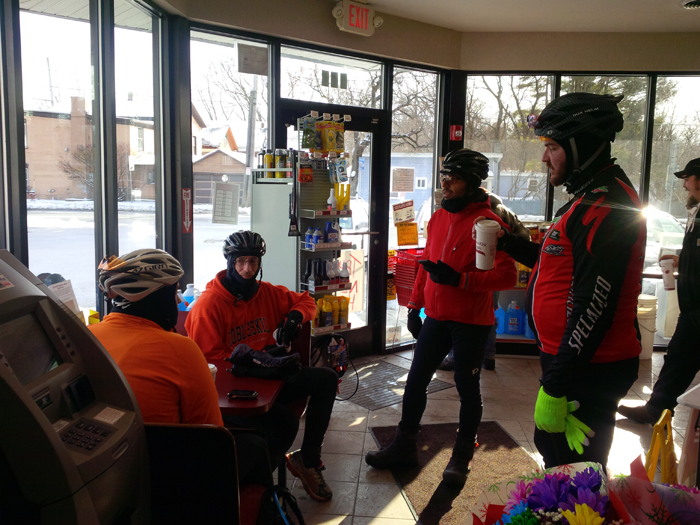 Riders taking a break to warm up on the FIRST CENTURY. It was a chilly day, with temperatures only getting up to the low 20s, with a brisk wind out of the south.
---

Niklas
Anderson
New York
NY
78 MILES
—
—
—
—
Ayaz
Asif
Lebanon
NH
09H:30M
—
—
—
—
John
Ceceri
Schuylerville
NY
25 MILES
—
08H:55M
—
50 MILES
Mario
Claussnitzer
Jackson Heights
NY
78 MILES
—
08H:55M
DNS
—
Scott
Cole
Wallingford
VT
08H:57M
—
—
—
—
Vinay
Devanathan
East Rutherford
NJ
—
—
—
DNS
—
John
Duer
Fairfield
CT
—
—
—
DNS
—
Rick
Gowen
Bolton
CT
—
—
—
—
06H:53M
Carlo
Innocenti
Wakefield
MA
—
—
—
—
06H:53M
John
Jurczynski
Holderness
NH
—
—
—
07H:03M
—
Shawn
Kaufman
Mt. Vernon
NY
78 MILES
—
—
—
—
Danielle
Michel
Warrensburg
MO
—
—
—
DNS
—
Simon
Muil
Pittsfield
MA
—
—
—
—
07H:05M
Richard
Preuhs
Yardley
PA
—
—
—
DNS
—
Sneha
Ranganathan
East Rutherford
NJ
—
—
—
DNS
—
Ann
Rasmussen
Holderness
NH
—
—
—
07H:03M
—
Arin
Simmes
Queensbury
NY
—
—
—
—
07H:05M
James
Winegar
Brooklyn
NY
—
—
—
DNS
—