---
---
For more options
visit our SIGN UP page
---
---
Results for the Adirondack Ultra Challenge:
If you have any questions, feel free to contact us.
---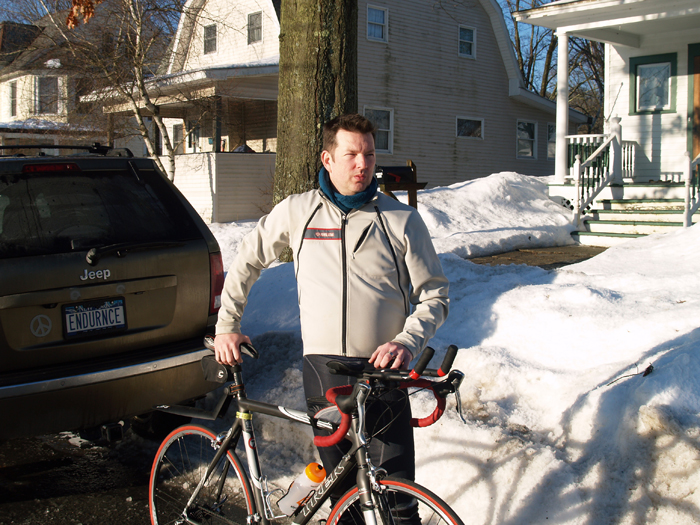 Kurt Higgins gets ready for the start of the SNOWBALL EXPRESS. The day was perfect for a winter century, despite the massive amounts of recent snow, and it was mild and sunny, with a high near 50°.
---

Martin
Bialas
Argyle
NY
—
—
—
70 MILES
—
Anthony
Ceceri
Schuylerville
NY
—
14 MILES
—
—
—
John
Ceceri
Schuylerville
NY
DNS
42 MILES
10H:40M
70 MILES
—
Jordan
Creany
Philadelphia
PA
—
—
DNS
—
—
Ken
De Long
Gloversville
NY
—
—
10H:40M
—
—
Jan
Dembinski
Woodstock
VT
DNS
—
—
—
—
Kim
Donegan
Malta
NY
—
—
70 MILES
—
—
Shaun
Donegan
Malta
NY
—
—
70 MILES
—
—
Norm
Freund
Little Falls
NY
—
—
10H:40M
07H:35M
—
Dave
Gilson
Niskayuna
NY
—
DNS
—
—
—
Jason
Hart
Philadelphia
PA
—
—
DNS
—
—
Kurt
Higgins
Ballston Spa
NY
DNS
28 MILES
—
—
—
John
Jurczynski
Holderness
NH
—
—
70 MILES *
07H:08M *
—
Thomas
Milliron
Rome
PA
DNS
—
—
—
—
Simon
Muil
Pittsfield
MA
—
07H:40M
—
06H:58M
—
Ann
Rasmussen
Plymouth
NH
—
—
70 MILES *
07H:08M *
—
Arin
Simmes
Queensbury
NY
—
—
—
06H:58M
—
Anton
Tokranov
Providence
RI
—
07H:40M
—
—
—
* TANDEM