---

---
FONDO ENTRY FORM | FONDO BIKE REG | CUE SHEET | MAP & COURSE PROFILE
---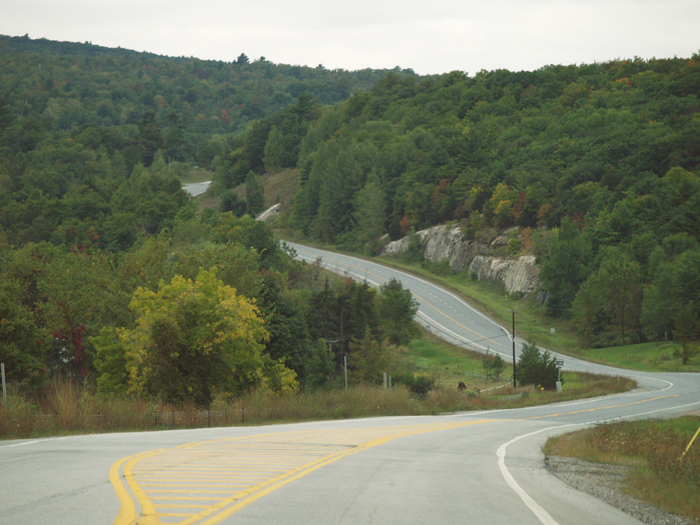 A little scenery from the course!
---
The ADIRONDACK 540 GRAN FONDO is a very laid-back ride, with an emphasis on fun and preparation for the BIG RACE in September. Riders will do one full loop on the legendary 136-mile ADIRONDACK 540 course and afterward, we'll host a summer evening pizza party and informal ultra race seminar.
Riders and their crew/family/friends are invited to join us after the ride (~ 6 PM) for an opportunity to socialize and ask questions about training, nutrition, logistics, support, equipment and strategy. We'll hand out a race checklist, and there may even be a couple of vendors and race veterans on hand to offer advice and answer questions.
This ride will start promptly at 7:00 AM from the Alpine Country Inn and Suites, located at 5647 Route 86 in Wilmington (518.946.2263/877.946.2263). If you need overnight accommodations, we recommend staying there. If you are not staying at the motel, please check with the event director or motel management for parking instructions.
Please give yourself adequate time to arrive, sign in and get ready to ride. Riders are expected to be on the start line at least 15 minutes before the start for last minute instructions.
We're going to offer a little incentive to do well, and will give the overall male and female winner complimentary entry into the ADIRONDACK 540 BRONZE BLAST in September.
Drafting will be allowed, and aero bars/bikes/wheels are permitted in the standard bike category. Group sprints are not permitted, and all riders finishing together will earn the same time, ranking and prizes.
Please note that this ride will be mostly unsupported on the road and riders should plan on being self sufficient. We'll have one aid station, at the SUPER 8 MOTEL in Ticonderoga at 75 miles, and services will be available on the route and are marked on the cue sheet. We'll have water and other drinks, snacks and pocket food at the start and in Ticonderoga, but please be aware that there will be long stretches where services are unavailable.
Riders may bring their own support crew, which would be great training for the race in September, but aid is only allowed via pedestrian hand-offs, and direct following of riders is not permitted.
This ride will be held rain or shine and entry fees are non refundable and non transferable.
To download a cue sheet, click here.
To download the entry form, CLICK HERE.
To register online, CLICK HERE.
To download the rider checklist, click here.
To view the course map and elevation profile scroll down, or click here.
If you have any questions, feel free to contact us. Thanks and I hope you make it!
A little more scenery from the course!